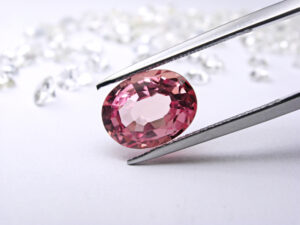 Diamond substitutes are becoming popular in the engagement ring market. The best-known gemstone of choice may be a mined diamond, but almost one-quarter of engagement rings in 2021 featured synthetic substitutes. For many people, the gemstone choice comes down to factors such as environmental sustainability and affordability. Whether you plan to marry someone or upgrade your collection of jewelry pieces, here are some recommendations for alternatives to diamond rings.
Moissanite: Almost As Hard As A Diamond
As per Shelly Brown, the beauty editor and senior fashion editor of The Knot, moissanite is still the best option for an engagement ring with no diamond. You may regard moissanite as a newer stone thanks to its increasing popularity, but it has been around for a long time. In the early 20th century, French chemist and pharmacist Henri Moissan discovered a natural gemstone form in a meteor crater in Arizona, so people named it after him.
Natural moissanite is rare, so the stones in jewelry markets are its lab-made alternatives. Lab-made moissanite has different aspects, such as refractive properties and hardness, which are like diamonds. So, moissanite makes an excellent diamond simulant when you wish not to pay for a diamond ring.
Moissanite is the second hardest mineral on earth after diamond. It may be more affordable than a diamond but shines much more brilliantly as compared to the latter stone. It has a slightly higher refractive index as compared to a mined diamond.
Diamond mining tends to be considered morally bankrupt, which is another reason why stones like moissanite are becoming increasingly popular.
Morganite: The Pink Beauty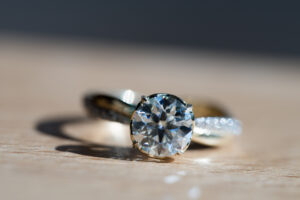 Morganite is one more diamond substitute that is becoming more popular. Customers may favor moissanite thanks to its relation to social responsibility, but it appears that morganite is gaining traction due to its feminine and romantic pink hue. Trace quantities of manganese play a part in the hue of morganite.
It was discovered in Madagascar over 100 years ago, and people named it after gemstone enthusiast and investment banker J.P. Morgan. The stone is found in its natural form in places such as Brazil, Pakistan, Mozambique, Madagascar, Afghanistan and the Western Coast of America.
Like moissanite, morganite costs a small part of what a diamond in a comparable carat range is sold for in the market. Mined pink diamonds may be pricey and rare, but a one-carat morganite stone can cost up to $300 or so. Morganite is not as durable as a diamond or moissanite, though.