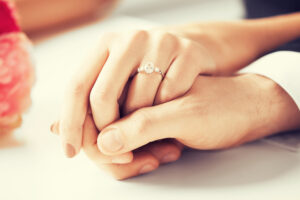 We all wish to give exquisite jewelry to our loved ones. It's a loving and affectionate gesture. What we don't want is for you to acquire an unethical diamond ring or diamond necklace. In today's society, the issue of blood diamonds still exists. Many African diamond mines are still held by insurgent groups, who mine the gems using slave labor. You don't want blood on your hands as a mindful shopper, which is why you hunt for ethical alternatives.
The majority of individuals prefer lab-grown diamonds to avoid purchasing blood diamonds. If you don't want to go with diamonds, cubic zirconia is another alternative.
Lab-Grown Diamonds Vs Cubic Zirconia: Origin
Man-made diamonds, lab-made diamonds, and lab-grown diamonds are all terms used to describe the diamonds created in a lab setting. A lab-grown diamond can be created in one of two ways. Chemical vapor deposition is one approach and high-pressure high temperature is another. Although both technologies are effective, most diamond-producing companies now favor CVD.
Cubic zirconia is a very popular diamond replacement these days. Cubic zirconia is exceptionally rare in its natural state. Scientists have made a synthetic copy of it. Cubic zirconia is made by heating powdered zirconium oxide with magnesium and calcium. The crystals develop after the mixture has been cooled for a period. They are then polished and faceted in the same way that lab-created diamonds are.
Lab-Grown Diamonds Vs Cubic Zirconia: Appearance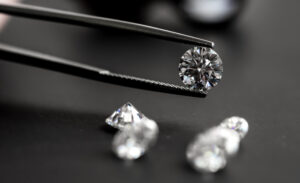 By looking at them, experienced jewelers can easily tell the difference between cubic zirconia and lab diamonds. When the discrepancies are brought to the attention of jewelry buyers, they will notice. Light performance is vastly different between the two.
Cubic zirconia is capable of emitting a rainbow of light. This difference is readily noticeable when it is compared with a lab-grown diamond. While the sparkle of a genuine or lab-grown diamond is more refined, this extremely flashing rainbow light is dazzling. In both natural and lab diamonds, inclusions refer to little particles of material stuck in the diamond as it grows. In lab-grown diamonds, inclusions are metallic.
Lab-Grown Diamonds Vs Cubic Zirconia: Cost
When comparing cubic zirconia to lab-created diamonds, the former is less expensive. If you prefer a diamond for your engagement ring, lab-grown diamonds are the best option because they are still less expensive than mined diamonds. One of the main reasons for cubic zirconia's low cost is that it does not last very long.