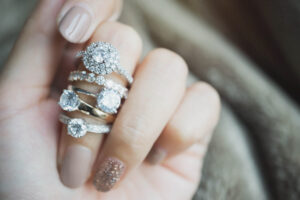 Some people prefer a discreet diamond ring, while others desire a large and beautiful diamond ring. If you come under the latter group, we have some tips for making your diamond ring look bigger without spending lots of money on a bigger center diamond.
We'll show you how to make your diamond ring appear larger in this article.
Wisely Choose Your Diamond Shapes
Diamonds come in a variety of forms, including round, princess, and oval. However, the weight of each diamond shape is unevenly distributed. Some shapes have a bigger table mass, making them appear bigger per carat. The marquise, pear, oval, and emerald diamond shapes appear to be the greatest per carat. Individuals who want a classic-style engagement ring with a big center stone often choose oval diamonds. Oval-cut diamonds appear to be larger in size per carat than round diamonds, but they have a conventional appearance.
Don't Buy Certain Diamond Cuts
Some diamond cuts appear to be bigger per carat than others. Avoid princess and Asscher cut diamonds if you are looking for the biggest diamond possible within your budget. Both of these forms of diamond cut conceal a significant amount of weight underneath their tables due to their shapes. If you're seeking a larger-appearing diamond but staying inside your budget, round diamonds should also be avoided as these diamonds can also conceal much stone weight.
Try Halo Setting
If you would like your diamond ring to look as large as possible, halo settings are a great choice. Your central diamond is encircled by a ring of smaller accent stones in a halo ring setting. This glittering halo visually enlarges your core diamond, making it look much larger. The additional glitter of lab-grown diamonds or natural diamonds in a halo setting enhances this appeal.
Choose Diamonds With Lower Clarity And Color Grade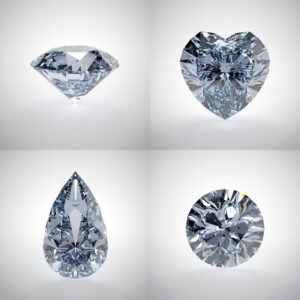 Diamond color and clarity, unlike diamond shape, have little bearing on how massive a diamond seems. If the size of the stone is your top priority, keep in mind that decreasing the diamond's color and clarity can help you extend your center diamond budget even further. Allowing yourself to be flexible with your clarity and color ratings will let you to spend more on a diamond with a greater carat weight and an excellent cut.