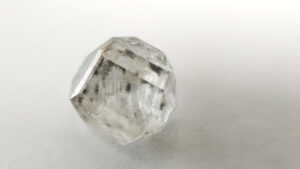 There are a lot of varieties of diamond rings. So choosing a diamond engagement ring that best suits your loved one can seem strenuous. In this article, we break the tedious job into simple steps.
You need to have an understanding of the ornaments that your fiancée usually uses. Some women prefer gold, while others prefer silver or platinum. It is better if the engagement ring that you buy complements her jewelry. If you can't decide about the ring metal, choose the one that best suits her skin tone. Silver and platinum often suit ladies with pale skin whereas yellow gold rings are best for those having a dark skin tone. If you are still confused, go for rose gold or classic gold. 
Choosing The Diamond
 'Four Cs' is very commonly used for grading diamonds. The four Cs are Cut, Color, Carat, and Clarity. Carat specifies the weight of a diamond. 1-carat diamonds are mostly preferred as it is compact and budget-friendly. If the diamond doesn't have any visual imperfections, clarity is good. The color grade of a diamond varies from D to Z. D grade is said to be the best grade as it is colorless.
The way a diamond is cut changes its optical properties. When the cut of a diamond is poor, the facets may not reflect light brilliantly. This can make the diamond seem dull. Do research about the shapes of diamond rings. Some common shapes of diamond rings are solitaire, crossover, boat shape, etc.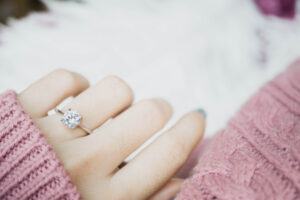 Emerald, Ruby, and Sapphire are also commonly used in engagement rings. If an antique ring is in your mind, don't bother much about the 'Four Cs'. Antique rings can be classified based on the time period they were used. One of the most popular antique diamonds is the Art Deco diamond. Art Deco diamonds normally have a bold geometric pattern that can be easily recognized. If you have doubts, there are antique diamond experts that you can consult.
The dealer that you buy the diamond ring from should be trustworthy and credible. Always look for established dealers who have an excellent experience in the field. It is recommended to see the diamond ring for yourself and see if it satisfies you.
Insuring your diamond ring is also important. Insurance will cover against your ring being damaged, stolen, or lost.
Apart from budget and technical aspects, it is important to consider whether you like the ring or not. Commit to the ring only if you like it.