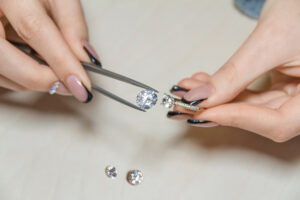 Choosing the right jeweler has great significance when purchasing fine jewelry including engagement rings. The jeweler should be able to assist you with choosing the right jewelry. Additionally, it is important to consider the experience, reputation, and trustworthiness of the jeweler. When getting a piece of jewelry, make sure to ask the following questions yourself to ensure that you are selecting the right jeweler.
Is The Jeweler Willing To Listen To Your Needs?
Respected jewelers should listen to your needs. They should help to narrow down your choices from a wide range of collections. This is especially important when getting engagement rings, as the ring should match the style, personality, and character of the bride. So they should be able to suggest the right choice based on her preferences.
Is The Jeweler Credentialed?
Choose a jeweler with whom you can maintain a long-lasting relationship. Look at the store's reputation and credentials. An established jeweler will have great references and can offer you high-quality services.
Does The Jeweler Provide Different Services?
Apart from selling jewelry, there should be many other services a jeweler have to offer so that you can develop a lasting relationship with them. They include custom-designing services, maintenance and repairs, offering appraisals, etc.
Additionally, make sure that the jeweler offers different types of gemstones including natural diamonds, lab grown diamonds, and other precious gemstones.
Does The Jeweler Offer A Huge Selection?
You should be able to choose an option that can be perfect for your bride-to-be from a wide collection of rings and other pieces of fine jewelry. They should also help to narrow down your choices from the wide range of selections they have to offer.
Is The Staff Knowledgeable?
The staff with a reputable jeweler should be able to answer your questions and clarify your doubts with ease and confidence. They should be experienced and professionally qualified to talk about fine jewelry and gemstones.
Does The Jeweler Offer Certificates?
When getting diamonds, make sure to choose a jeweler who offers grading reports for the stone. This is important to determine the quality of these stones. The jeweler should provide diamond certifications from reputed labs like the GIA and IGI.
How The Integrity Of The Metal Is Marked By The Jeweler?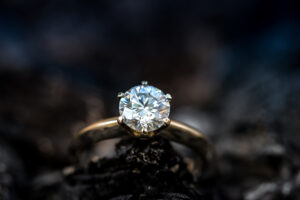 Precious metals including gold come in different qualities. Therefore, the piece of jewelry you choose should have a stamp that verifies the precious metal. The stamp will indicate grades like 10K, 14K, or 18K for gold. The stamp for platinum will be PLT.
Additionally, the jeweler should describe the 4Cs of diamonds and other quality parameters affecting these stones so that you can select the best option for you.