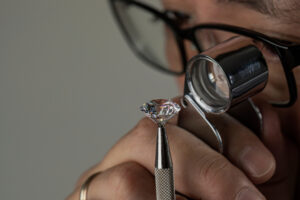 Your diamond can have different types of flaws including blemishes, inclusions, chips, cracks, etc. These flaws can have a great part to play in deciding the worth of your stone. The more flawless your diamond is, the higher is its value.
Inclusions are one of the important types of flaws present in diamonds. They occur as a result of some dirt getting trapped in the crystal during its formation. Inclusions can develop inside a diamond in different forms and some that are visible to the naked eyes appear as knots, clouds, dark spots, lines, or small cracks. Inclusions can be unique to each stone and when buying diamonds, you have to inspect them closely to find out if there are any inclusions present in them.
Gemological labs like the GIA evaluate the visibility of inclusions in diamonds based on the clarity grade. If the inclusions are not visible, then they are given high clarity grades, but if they are visible to the naked eyes, then their clarity grades will be low. The clarity grade of a diamond can decrease based on the increase in the visibility of the inclusions. Diamonds with high amounts of inclusions can have low value and their price ranges can also be low.
How Diamond Inclusions Are Created?
Diamonds form under the earth over several years. During their formation process, some impurities can get trapped inside the crystal's structure thereby leading to the development of inclusions in the stone.
When the diamond forms, smaller crystals can get captured inside it which can look like tiny dots and when there are several of them in a particular area, they can together look like clouds.
Cracks can also occur during the formation of diamonds and sometimes they can be visible to the naked eyes. Air also can get trapped inside the crystal, and this can look like small bubbles in your diamonds. Like natural diamonds, inclusions are also present in lab grown diamonds too.
Can Flaws Develop In Diamonds After Purchase?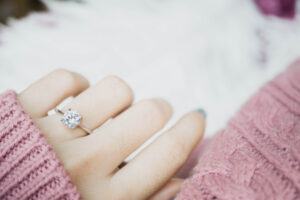 Inclusions develop during the formation of the stones and they are permanent. They won't occur in your diamonds suddenly, so you don't have to worry about inclusions developing in your diamond rings after the purchase. However, other flaws like chips, cracks can develop in the diamond after the purchase.
Nonetheless, these flaws are external and are not considered inclusions. Additionally, it takes a very hard blow to develop external chips and cracks in diamonds, as these stones have great durability.