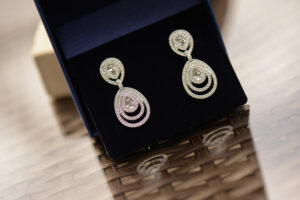 Purchasing a diamond can be very important as it involves significant hard-earned money of yours. It also has an emotional value if you are using it as your engagement ring. As we all know, there are a lot of fake stones that look like diamonds and may even have some qualities of a diamond. Stones like white zircon, white sapphire, and white topaz have a good resemblance to diamonds and you can get easily fooled if you are not careful. So it is really important to know if the diamond you are purchasing is real or not.
There are many tests you can use to identify whether a diamond is real or not and many of these tests can be done in your home.  In this article, we are discussing the methods that are simple and convenient for you to identify a diamond. Keep in mind that all these tests are very basic and just passing these tests may not conclude the genuineness of a diamond.
Water Test
Water testing is one of the easiest methods to find a fake diamond. You can drop the stone into a glass of water. If it floats, without any doubt, you can say it is fake. Original diamonds have a higher density than water and will sink to the bottom. Also, don't assume that all stones that sink are diamonds.
Fog Test
Before doing this test, confirm that the stone is clean. Hold the stone in front of your mouth and breathe into it. Fog will form on the stone and if it is a diamond, the fog will clear off in one to two seconds. If the fog stays long, the stone is not a real diamond. Diamonds can disperse heat very quickly and that is why the fog does not remain on the diamond for long.
Use A Magnifying Glass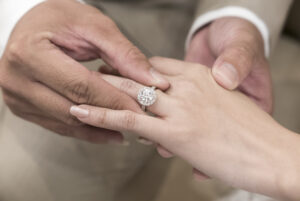 It is very rare to find a diamond without inclusions. You have to use a magnifying glass and look for flaws in your stone. If you can't find any, there is a high chance that it is fake.  Lab-grown diamonds can be made flawless. They are real diamonds, but they usually cost less than natural diamonds.
Use A Black Light
You will have to purchase black light for this. You have to switch off all the lights in your room and shine the black light on your stone. Most diamonds emit a blue-colored glow and some don't glow. If you observe a yellow, gray, or light green fluorescence, it is most probably a fake diamond.