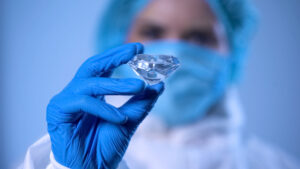 Choosing between four-prong and six-prong settings is a common dilemma that people often face when getting diamond rings. Both of these settings are commonly used for diamond jewelry and they can be a stunning choice for your ring. The prong setting can offer a classic look to your ring irrespective of the number of prongs.
Both four-prong and six-prong setting have their own advantages as well as disadvantages. If you are wondering which is the right option for you, then it is important for you to know their pros and cons. If you want to know more about these popular ring settings, then read along to find out.
The Four-Prong Settings
This setting uses four claw-like structures, known as prongs, to hold the stone. As the amount of metal to cover the stone is low, this setting can make your diamond more visible when compared to a six-prong setting.
A lot of people believe that you can increase the brilliance of the stone by choosing a four-prong setting, as it allows more light to enter the diamonds because of the less amount of metal used to hold. But the GIA states that this is a false belief. To increase the brilliance of your stone, you will have to give great importance to its cut quality instead of reducing the number of prongs.
But the 4-prong setting can make your gemstone the center of attention, as it can showcase the stone in the best possible way. However, this setting might give your round diamond a square look because of how the prongs are arranged. But this property of the four-prong setting makes it a perfect option for the princess and cushion-cut diamonds that come with a square shape, as this setting can enhance their shape.
6-Prong Setting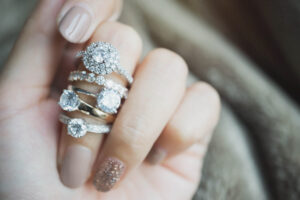 The six-prong setting uses six prongs to hold the stone instead of four. The enhanced protection it offers the stone is the appealing feature of this setting that attracts people. In a 4-prong setting, if one prong is broken, then the gemstone can easily fall out of the setting. But this might not happen with a 6-prong setting, as there are 5 other prongs to hold the stone in place even if one prong is broken.
But it might make your stone look slightly smaller, as more metal is used to hold the stone. Hence, it is not recommended for smaller stones below 1 carat. But it can be a perfect option for bigger diamonds, especially round ones.
So if you value the protection of your natural and lab grown diamonds, then it is better to choose the 6-prong setting. But if you prefer to get maximum visibility for the stone, then a 4-prong setting can be the best choice for you.